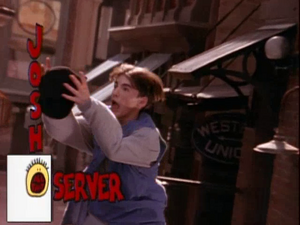 Josh Server was a cast member from Season One-Season Six, the entire original run before the Season Seven Relaunch. He holds the record for the longest cast member on the show.
Characters
Edit
Picture
Character

Walter the Earboy

A misfit with huge ears. He is more commonly referred to as simply "Earboy." His best friend is Pizza Face (Kel Mitchell). He normally seeks advice from Ross Perot (Katrina Johnson), who will help him get popular. Earboy has tried getting an earring, selling pork on a stick, learning how to dance, and playing in a band in attempts for popularity.

Detective Dan

A very incompetent and idiotic detective. Detective Dan always comes up with the most ridiculous conclusions, even when the real evidence is right in his face. Most of the time, he doesn't even know what case he is trying to solve, which is evident when he says something along the lines of "that takes care of the case of the haunted zoo." He has a habit of repeatedly saying "I'm Detecive Dan." A bystander will often say "What a moron" at the end of each sketch. He speaks with a Boston accent, and is most likely a parody of Dick Tracy. His first appearance was in Episode 217 - Monica. He was one of the characters Josh reprised for the 10th Anniversary Reunion Special.

Flem

Flem is a disgusting slob. He is always compared to Peter, who is as opposite as you can get.

Milk Man

Superdude's arch-nemesis, and has been since Superdude's first appearance in Episode 102 - TLC). Milk Man's life long goal is to bother people all over the world, as first stated in Episode 219 - Mokenstef. He often insults Superdude by purposesly calling him "Superdoop", "Superdud", "Stupidude", etc. His Dairy Lair is a barn with cows.

Maggot

Lead singer and guitarist of the band Bacteria.

Bernie Kibbitz

And old Yiddish man who is a frequent customer of Good Burger, often being unsatisfied with Ed's service. One time Ed got Bernie so mad he exploded, literally! Bernie first appeared in Episode 342 - Blackstreet, during a sketch where Ed falls in love with Tyra Banks . Bernie has appeared outside of Good Burger sketch, one time where he is seen with his wife played by Christy Knowings during the "We Got Pants" sketch in Episode 461 - Robyn. Bernie also appeared as a contestant in the Mr. Whateverrr! sketch in Episode 596 - New Radicals and as a patient in the Dr. Debbie sketch in Episode 607 - No Authority.

Fizz

Co-worker of Ed's that manages the drive-thru at Good Burger. He was originally called Marty in Episode 229 - Mark Curry/Deborah Cox. He also appeared in the Good Burger movie.

Tandy Spork

Teaches Home Economics at Dulmont Jr. High School. Tandy is very energetic and has the strength of a man. She is a Vegetarian and Vegetable enthusiast. She first appeared in Episode 338 - LL Cool J, to audition to be Mandy's replacement on Cooking with Randy, but Randy was not going to take vegetables over his dear chocolate. She is skilled in jiu-jitsu, and has shown so against Coach Kreeton.

Officer Canker

A crew member of the USS Spaceship. He is a loose parody of Spock from Star Trek .

Julio

Miss Piddlin's assistant cafeteria worker. He is always there to provide Miss Piddlin with more peas, no matter where she is. He will also play his guitar whenever Miss Piddlin breaks into song. It's obvious that Julio fears Miss Piddlin just as much as anyone else, and is extremely cautious around her in order to avoid getting hurt.

Jimmy Bond

An obvious spoof of James Bond . His assistant is Agent K (Kel Mitchell), and later replaced by Agent Z (Nick Cannon). He's faught against the likes of Cold Finger (Kenan Thompson), Hot Toe (Christy Knowings), Dr. Maybe (Mark Saul), Mr. Nice Guy (Gabriel Iglesias), and Mr. Big (Leon Frierson).

Toby Brawn

An eccentric former fitness trainer trying to sell various ridiclous items including "The Board", "The Brute", "Trophy Maker 2000", and even himself! He is a spoof of the various "As Seen On TV" infomercials.

Ray Borealis

Works for Channel 6 1/2 News as a correspondent for Brenda Stone. In Season Five Ray worked as a weather man reporting from hazardous places including the North Pole, Death Valley, the Moon, and a Montana Hurricane. In Season Six, his segment changed to 'Job to Job with Ray Borealis', showing the life of various occupations, but of course this still resulted badly for Ray. During 'Job to Job with Ray Borealis', Ray has been in the cage of a gorilla to show the life of a zookeeper, outside the window of the world's tallest building to show the life of a window washer, and in a garbage dump to show the life of a garbage man.

Jerry Futile

A crazy game show host. He originally appeared in Episode 355 - MC Lyte as the host of 'You Can't Win', and returned for said game show in Episode 583 - Faith Evans. As the point of the game, Jerry was intentionally unfair to his contestants, although Helga (Danny Tamberelli) got the better of him on one occasion. In Episode 600 - Hoku Jerry ended up hosting another game show entitled 'Cockroaches in Your Pants.' This time, however, the contestants got to win something, but who wants to win having cockroaches down their pants?

Emily Maroon

Brother of Lump and Chuck Maroon.

Mumbly Spice

Member of the Spice Boys. Mumbly, as his name says, mumbles everything he says.
External links
Edit