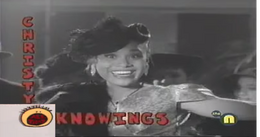 Christy Knowings was a cast member for Seasons 4-5. (More details will be added to page soon)
Characters
Edit
Picture
Character

N/A

Jessica

N/A

N/A

Winter Wonders

N/A

N/A

Brenda Stone

N/A

N/A

Penny Lane

Superdude's girlfriend. She would often unintentionally give Marc's bullies advice such as "you're not going to push him into that display of tomatoes, are you?" The role was originally played by Angelique Bates during Season One and Season Two, but took over by Alisa Reyes during Season Three following Bates' departure. Knowings then took over the role for Season Four and Season Five following Reyes' departure.

N/A

Hot Toe

Enemy of Jimmy Bond. A vixen with a toe full of volcanic lava, similar to Kenan Thompson's Cold Finger but reversed.

N/A

Miss Ernestine Klump

Barely competent Dullmont Junior High Teacher, who replaced Miss Fingerly after Lori Beth Denberg's departure in Season 4 .
External links